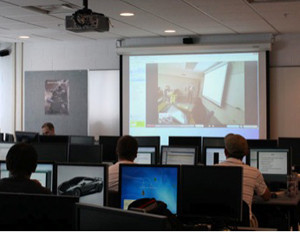 Penn State Brandywine has recently been linked to fifteen other Penn State campuses to deliver the Video Learning Network (VLN) programs. The Video Learning Network is a multi-campus collaboration of high-technology classrooms equipped with high-definition video conferencing capabilities. VLN classrooms are equipped with high-definition viewing screens, document cameras, and other technologies for live interaction among faculty and students at the course origination site and up to three other sites.
Penn State campuses are able to receive and broadcast these programs, expanding the reach and variety of programs into all regions of Pennsylvania.
The goal of the Video Learning Network is to help Pennsylvanians acquire the knowledge and skills they need for the workforce at a Penn State campus conveniently located close to their home. 
Most courses in the VLN are offered in an accelerated seven-week format and are taught in a blended format combining face-to-face sessions with video conferences and online instruction by Penn State instructors. Blended learning is an approach to course design that brings together the best of both face-to-face and online strategies. This combination aims to build from each approach to create an innovative and effective learning experience for students.
The idea behind a blended approach is the planned integration of online and face-to-face instructional approaches in a way that maximizes the positive features of each respective delivery mode. For example, online materials can provide students with flexibility and a way to access engaging multimedia content.
From a student perspective, the appeal of blended learning includes:
Flexibility of schedule: learn anytime, anywhere
Control: students have some level of control over the pacing of their learning. Difficult concepts can be reviewed as often as necessary. 
Convenience of an online class with many of the social aspects of a face-to-face class