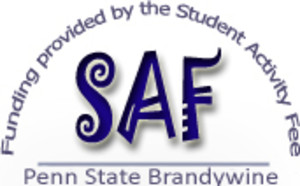 Each semester, all registered students at Penn State Brandywine are required to pay a Student Activity Fee (SAF). The purpose of the SAF is to provide funds to improve the co-curricular environment for students. The fee for the 2015-2016 academic year is $93 per student per semester.
The primary goals for the SAF include:
Enhancing the "collegiate" environment by improving the co-curricular opportunities and activities
Improving student activities designated to increase student satisfaction and retention
Assisting in providing specialized services and programs for diverse populations on a student needs basis.
Enriching the campus environment and encouraging the involvement of students, thereby promoting academic achievement and the development of student potential.
The use of SAF money is determined by the Penn State Brandywine SAF Allocation Committee. This committee holds the responsibility of creating the annual spending plan and allocating all student activity fee monies collected in a manner consistent with the purposes and process of this fee. The committee meets regularly throughout the fall, spring, and summer semesters to review spending proposals from other students and student organizations. The SAF Allocation Committee manages over $100,000 each year.
The SAF Allocation Committee is comprised of seven (7) students representative of the campus student population, one of whom is the Student Government Association (SGA) President; two staff members, one of whom is the Director of Student Affairs, and one faculty member. Nominations for student representatives are sought at the start of each academic year.
Examples of items that have been funded by the SAF on campus are:
campus cultural activities such as Multicultural Day, Chinese New Year, Hanukkah Luncheon
support for club sports including Ice Hockey, Martial Arts, Cheerleading, and Volleyball
the replacement of equipment and renovation of the Fitness Center
travel support for student clubs such as the Lion Ambassadors and Black Student League to attend conferences
campus events and programs such as the Welcome Back Picnic, Eagles Pep Rally, and Fireside Music Series
2017 - 2018 Student Activity Fee Allocation Committee Meetings

| Meeting Dates | Proposal Deadline |
| --- | --- |
| September 12 | September 1 |
| October 10 | September 29 |
| November 14 | November 3 |
| December 5 | November 24 |
| January 16 | January 5 |
| February 13 | February 2 |
| March 13 | March 2 |
| April 10 | March 30 |
| April 24 (Summer & early fall) | April 13 |
All meetings take place at noon in 202B Student Union Building otherwise noted in Weekly Announcements.