April 23, 2012
The Penn State Brandywine chapter of Phi Beta Lambda (PBL), a business society, sent five students to the Pennsylvania Phi Beta Lambda's State Leadership Conference (SLC) in Gettysburg earlier this month. The students competed in four events, with several bringing home top awards.
Freshman Steven Hargis placed first in the state in the "retail management" category while freshman Steven Nguyen placed third for word processing and also competed in "macroeconomics." Sophomores Janina Horakova and Nga Lam, as well as freshman Theressa Ha created a presentation about recent college graduates looking for corporate jobs and helpful tips for how to get hired for the "emerging business issues" category.
 
Hargis, chapter vice president, said the conference "gave me an opportunity to expand my network and meet a lot of new faces, while also testing my grasp of information and concepts that I will likely be using in my future work experiences. The conference provided a fun way to grow as an individual and as a leader, and I am excited to attend the National Leadership Conference in San Antonio, Texas this summer."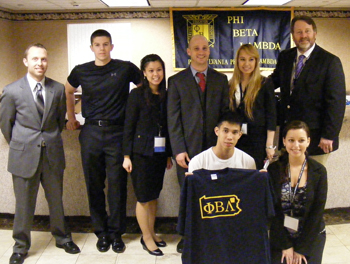 (Top row, left to right) - David Vesley '11 Bus, freshman Steven Hargis, freshman Theressa Ha, Richard Cook '11 Bus, sophomore Nga Lam, Assistant Professor of Finance Don Taylor, and (bottom row, left to right): freshman Steven Nguyen, and sophomore Janina Horakova
Accompanied by the chapter adviser, Assistant Professor of Finance Don Taylor, the members attended workshops and general sessions on business-related topics. In addition, two Brandywine alums, Richard Cook '11 Bus and David Vesely '11 Bus, both PBL Professional members, attended the conference. Vesely, Cook and Taylor assisted in judging for the competitive events.
Lam, chapter treasurer, added, "The trip to Gettysburg was amazing. I learned a lot from the workshops and being able to be a part of PBL really makes my college experience more worthwhile."
"All in all, this was a great experience for Penn State Brandywine students," the team said. "We enjoyed every day of the conference and feel very lucky that we had this opportunity. We especially are grateful for our adviser, Dr. Don Taylor, for making this experience possible in the first place."