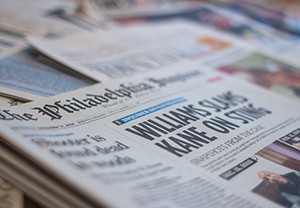 Wednesday, March 25
6:30-8:30 p.m.
Tomezsko Lounge
Penn State Brandywine and the Delaware County Press Club are offering a FREE writing contest to all regional high school students. Mail or email your submissions according to the categories below to Penn State Brandywine by March 9 for the chance to win $99 (or $50 for honorable mention)! One winner and one honorable mention from each category will be announced at the 2015 Journalism Symposium on Penn State Brandywine's campus. Attendees will have the chance to meet judges and hear their critiques.
Categories
Broadcast
An entry form, script and video of the broadcast must be submitted. The script should be provided with directions for audio, video and timing. Scripts may pertain to: academics, news, commentaries, PSA's or sports. The video of the broadcast must match the script.
Literary Magazine
An entry form, specific article and literary magazine (if printed) must be submitted. Drama, poetry, prose fiction and narrative and prose non-fiction will all be accepted. Submissions for this category that have not yet been printed for the 2014-15 academic year are still accepted. Please make a note in your entry form when your school's literary magazine will be published.
Newspaper
An entry form, newspaper article and the newspaper the article is printed in must be submitted. Newspaper feature, news story, sports story and editorial columns are acceptable newspaper entries.
Photography
An entry form, photo and cutline must be submitted. Each submission will be judged on both the quality of the photo and the written cutline.
Judging Criteria
Value
Importance or worth of story
Quality of reporting
Quotes
Writing
Editing
Requirements
Entries must be published during the 2014-15 academic school year, unless specified in the category information.
Work must be submitted by the school newspaper's faculty adviser.
Entry form application must be included with submission and completed in its entirety.
Submission should be an original print, copy of original or scanned PDF of the original. 
Submission Information and Deadline
Submission deadline is March 9.
Send entries to:
Penn State Brandywine Pride in Print: High School Journalism Contest
25 Yearsley Mill Rd.
Media, PA 19063
or email to: PridePrint@psu.edu.
We understand staffs may publish strictly online. If this is the case, please print your submission and mail or email with the link to your online story or photograph.
Journalism Symposium Event
Penn State Brandywine will host a Journalism Symposium on March 25 at 6:30 p.m. in the Tomezsko Lounge on campus. At the event ALL winners and honorable mentions will be announced. Students who chose to have their submission(s) critiqued will also be able to pick up the judges' notes at the event. All contest recipients will be recognized and winners will receive their prize that evening. Additional event details will be sent to all contest submitters.