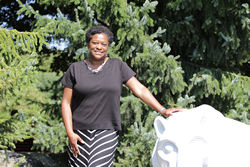 Assistant Professor, Accounting
Biography

Karen McDougal received her B.B.A. in Accounting from Temple University, her M.B.A. from Widener University, and her Ph.D. in Accounting from Temple University. Dr. McDougal researches the impact of global expansion on U.S. firms. Dr. McDougal examines characteristics of U.S. multinational firms and how they differ from U.S. firms with purely domestic operations, with emphasis on investor perception, audit quality, and financial reporting quality. Dr. McDougal is working on several projects and has published in the Journal of Business Case Studies.

In her teaching, Dr. McDougal applies her decade of business experience in the areas of auditing, taxation, and financial reporting, to provide students with a comprehensive understanding of the field of accounting. Dr. McDougal delivers a rigorous curriculum in each of her courses, balanced with a real world perspective on accounting issues and an emphasis on the increasing ethical responsibility of accounting professionals.

Recent Publications and Presentations:

Introduction to Compilation services as a Reinforcement of Basic Accounting Concepts for Intermediate Accounting Students, Journal of Business Case Studies, 2009, with Evelyn McDowell and Wei Li.