Once again Penn State Brandywine has celebrated student accomplishments at EURECA.  During the afternoon of April 15, 2010, over 40 students exhibited their undergraduate research, enterprise, and creative accomplishments for the local community. 
The following presentations were selected by EURECA visitors as the top three posters.
The first place award was given to junior Iris Thai, an education major, for her "Pizza Poster." Thai's faculty sponsor was Instructor in Education Jean McKay.
Junior Melanie Farrell and senior Stephanie Winterbottom were awarded second place for "Effects of Visual Tattoos and Physical Appearance in Hiring Decisions." Their faculty sponsor was Assistant Professor of Psychology Daniela Martin.
The third place award went to freshmen John Neel, Christopher Brown, Michael Radcliffe and Kevin Joseph for their "Dance Dance Lego Robot." Their faculty sponsor was Associate Professor of Engineering Asad Azemi.
Listen as other presenters discuss their projects.
Listen as Gelsomina Schaffert and Jenny Franz discuss their internship accomplishments at SC Foster in "
Developing a Training and Recruitement Manual
".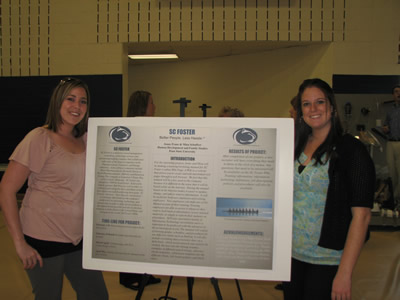 ---
Danielle Stephens discusses, "
Outgroup Contact and Multicultural Education: Relations to Social Dominance and Symbolic Racism
".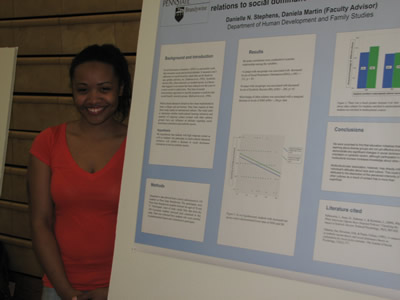 ---
In "
Cochlear Implant
", Ryan Smith discusses his research.