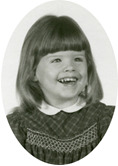 Robin Stokes, M.Ed. Counseling Education
Director of Advising & Career Services
When I was in 5th grade, my teacher Mrs Kushuba suggested I become a safety patrol, and co-captain of our student patrol team, complete with bright orange sash, shiny silver badge, and safety flag that I brandished with aplomb.  In those days (1970s), we kids actually stopped traffic for our peers to cross safely, not like today with the adults who have this job!  I recall being quite proud of the responsibility and leadership of this position, and the fact that an adult saw such potential in me.  At this point in my life, I also entertained notions of being a police officer, as the corner I patrolled was across from the station in my home town. 
I also was strongly influenced towards medical careers, having 3 doctors in my immediate family.  We lived with my grandparents when I was in elementary school, and my maternal grandfather was an "otolaryngologist" - quite a fascinating word for "eye, ear, nose, and throat Doctor".  I helped Gaga use his various toys to look up his nose and into his ears.  I was completely taken by his calm demeanor and love for his patients, and their love for him.  I did not, however, think that girls could be doctors, as he, my Uncle Grey, and my great Grandfather were all that I knew, in addition to my own male pediatrician, and of course, Marcus Welby on TV.   I also recall in the 5th grade, that we had a career week, and I visited doctor friends of my family, to learn what they did during a typical day at work.
Later in my high school and college years, I excelled in math and science classes, and discovered I had an Aunt who was a Marine Biologist, and thought I'd go to University of Delaware for that major.  I was torn, though, between that and music - I had played the flute and piccolo throughout high school and college, and had played in District Symphonies, as well as Internationally in an American Music Abroad program while in high school.  I ultimately decided on biology, and landed at U of DE?and my freshmen year included an honors seminar where I worked with mice and the effects of carcinogens.  I determined that I didn't want to take courses to learn about medicine, if it meant I had to expose living critters to such scientific research - I simply didn't have the stomach for it.  I also came across the foreign language of college level calculus, which sliced and diced me into little pieces of whimpering confusion.    Dissatisfied with that experience, I completed my undergraduate degree in Psychology, with a minor in English?.and I have owned both fresh and salt water aquariums, after realizing I could pursue vocational as well a-vocational interests.
Next on my career quest was a Master's in Counseling Education (fancy term for Student Affairs professional), at Penn State.  I loved caring for people and youngsters in particular.  I can recall at a young age, at summer camp, helping a scared camper from Mexico who didn't know English, overcome her homesickness s during that summer?and my family always telling me that I naturally gravitated to those in trouble.   Master's thesis focused on gender roles and the socialization of career choice, which I still find interesting to this day - just how far have we come in selecting careers that are dominated by certain genders?
I absolutely loved my Masters degree in college-level counseling, and have spent my career doing just that - helping others acclimate to college, through sometimes arduous paths.  My first job right out of grad school was with Harrisburg Area Community College, where I helped design the entire Student Services division at their new campus in Lancaster.   I have worked in International Student Services, Disability Services, Residential Live, Career Services, as well as Academic Advising.