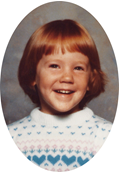 Jenn Traubel, M.S. in Higher Education Counseling
Academic Adviser
As a little girl I had the typical little girl ideas of what I'd be when I grew up - teacher, nurse, tea party hostess.  My "students", "patients" and "party guests" were always pleased with my abilities.  Progressing through school I enjoyed all subjects (except for physics, never really acquired a taste for that) and never gave serious consideration to careers. Before I knew it, I found myself a college freshman with an extensive and eclectic menu of majors before me. 
I was admitted as an "undecided" student which was perfect since that was exactly how I viewed myself.  My mission was simple: be the first to graduate as "undecided".  Unfortunately my plot was thwarted early on.  My adviser was quick to inform me that the University did not grant a Bachelor of Undecided and thus began my road of exploration.  The only thing that was clear to me was my desire to help people.  It was vague, but it was a starting point. 
I exhausted the resources of the Advising Center and completed just about every career interest inventory they had to offer!  During my first two years, I took classes in a wide variety of subject areas and dabbled with the idea of majoring in nursing, nutrition, psychology and criminal justice.  Of these, nursing stuck out most.  Who helps people more than a nurse?  And how great to major in something and know exactly what job you can have after you graduate?  But there was another factor weighing on my mind, graduation.  I wanted to be on a four-year plan and graduate with my friends (looking back, perhaps not the wisest means of making a decision).  So I selected criminal justice, though it was hard letting go of the idea of being a nurse.
I graduated in four years with a bachelor of science in criminal justice, taking courses like anatomy and physiology as electives to prepare for nursing school after graduation.  Upon graduation I entered an accelerated BSN program and I was set to be a nurse?.until the program started.  I attended for two weeks and quickly learned I was not cut out for nursing.  When they said accelerated, they meant it.  And when they said change the bed pans, I ran. 
I began to realize some themes occurring in my progress toward finding a career.  I still wanted to help people.  I was fascinated by all types of curriculums and majors and I loved being on a college campus.  While I was exhausting my resources as an exploring undergrad, it never occurred to me that the individuals guiding me along the way had made careers of aiding the undecided in deciding.  Shortly after this realization, I was accepted to a master's program in Higher Education Counseling where I had the opportunity to complete internships in new student programming, residence life, academic advising and career services.  That was the first time I ever felt "decided" about what I would do when I grow up.
Working with the exploratory students at Penn State Brandywine provides a new adventure and a new major/career path to learn about each day.  I believe it is important for students to take a hands on, experiential approach with their academics, and a little humor is also essential.