Penn State Brandywine's Summer Bridge Programs offer individualized, flexible tutoring sessions that allow students to come and go as needed. There is a nominal fee for each program. Penn State Brandywine's Summer Bridge Programs are not courses and students will not receive college credits for attending.
Incoming Freshmen: LAUNCH
Welcome to Penn State Brandywine. Start off your new college career on the right foot by participating in this summer program where you will work with peer tutors to improve your writing and math skills. This individualized program will help prepare you for your first English and mathematics courses as well as teach you fundamental skills all freshmen should possess before their first day of classes. 
Find out more about the LAUNCH program.
Returning Students: Math Boot Camp
Math is a cumulative science and one math course builds on another. If you feel that your math foundation is not as strong as it should be to move up to the next level math course then Math Boot Camp is for you. Join other Penn State Brandywine students as they prepare for the new challenges that they will face in mathematics. Your current math skill level will be assessed and you will work on strengthening your math abilities as you work through the Math Boot Camp curriculum.
Find out more about Math Boot Camp.
Adult Learners: Math Tune-Up
Math Tune-Up is designed to work with Post Baccalaureate students and adult students returning to college. Even the best math students forget important skills needed to succeed in higher level math courses. This program is designed to be flexible to meet students' busy schedules. Evening and Saturday tutoring hours are available to prepare you for what your future holds. 
Find out more about Math Tune-up.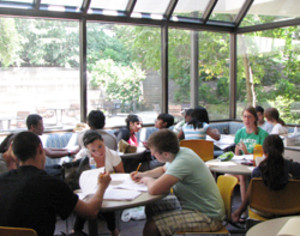 Hours of Operation
July 8–25  
Monday through Thursday:
9 a.m.–5 p.m.
Closed Fridays
Further Questions Contact:
Christine Brown
Brandywine Learning Coordinator 
610-892-1463
Janeen Madison
STEM Lab Coordinator
610-892-1422