The instructions below list the steps necessary to self-enroll in the Lion OWL ANGEL Group, the Virtual Writing Studio at Penn State Brandywine. You may want to print these instructions.

PIN necessary to self-enroll in the Lion OWL: lion owl


Steps to Self-Enroll (you will only need to register and enroll once).

1. Log into ANGEL.

2. In the My Groups section of ANGEL, click on 'Find a Group'.






3.Type 'lion owl' into the Keyword Search field and then click the Search button.


4.Click Enroll by PIN after the search result is listed on the screen.



5. Enter - lion owl - into the PIN field and click the Enroll button.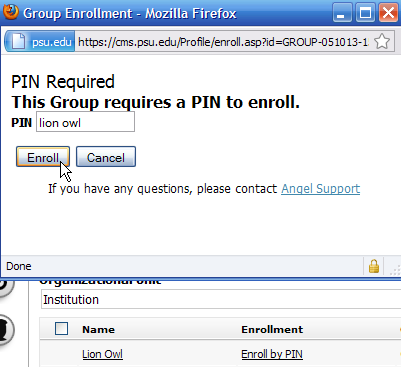 6.Scroll to the bottom of the successful enrollment window and click the Close button.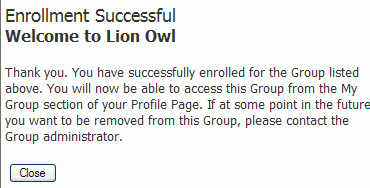 7. Congratulations. You have successfully enrolled in the Virtual Writing Studio. Click on the Lion OWL Group to enter the Studio.  The Lion OWL group will now be listed in the My Groups area of your ANGEL profile page. 
---
After you have read and understand these instructions,
click here
to log into ANGEL and self-enroll in the Lion OWL.