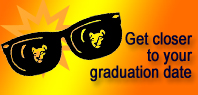 Need a reason to get down to work for the summer season? These summer courses at Brandywine could bring you a little closer to your graduation deadline.
For a complete listing of summer courses offered at Penn State Brandywine, go to the University Registrar's course search page.
For more information, contact Patricia Hillen at 610-892-1372.
SUMMER I - May 18-June 29
ANTH 045 (GS;US;IL) Cultural Anthropology (3) Beginnings of human culture; economic life, society, government, religion, and art among traditional peoples.
ASTRO 001 (GN) Astronomical Universe (3) The development of modern understanding of the astronomical universe from planets and stars to galaxies and cosmology.
ASTRO 011 (GN) Astronomy Lab (1) Selected experiments and explorations to illustrate major astronomical principles and techniques. Telescopes observations of planets, stars and nebulae.
B A 420 Preparation for Career Management (1) This course emphasizes effective career planning by closely examining oneself, the business world, communication styles and strategies.
B A 421 Project Management (3) Introduction to Project Management covering all phases of a project including proposal development, planning, execution, and closing.
BIOL 120A (GN;US;IL) Plants, Places, and People (3) Useful and dangerous plants; historical (archaeological), cultural (ethnological), and economic (anthropocentric) aspects, including structural and chemical characteristics of botanical importance. 
CAS 100 (GWS) Effective Speech (3) Introduction to speech communication: formal speaking, group discussion, analysis and evaluation of messages.
CMPSC 101 (GQ) Introduction to C++ Programming (3) Properties of algorithms, languages, and notations for describing algorithms, applications of a procedure-oriented language to problem solving.
COMM 409 News Media Ethics (3) Ethical problems in the practice of journalism; principal public criticisms of news media; case study approach.
E E 210H Circuits and Devices (4) Introduction to electrical circuit analysis, electronic devices, amplifiers, and time-domain transient analysis.
ENGL 202D (GWS) Effective Writing: Business Writing (3) Writing reports and other common forms of business communication. 
ENGL 492 (AM ST 476, WMNST 491) American Women Writers (3) A study of selected American women writers.
FR 003 Intermediate French (4) Grammar, reading, composition, oral and aural exercises.
HIST 012 (GH;US) History of Pennsylvania (3) Chronological and topical survey, emphasizing immigration of diverse ethnic groups and religious, political, economic, and social developments, including industrialization and urbanization.
IST 220 Networking and Telecommunications (3)  Introduction to digital network topologies; transmission media, signal modulation, digital packet switching and routing, systems integration, communications management, and security.
IST 425 (MGMT 425, ENGR 425) New Venture Creation (3) Via problem-based learning, teams define new business ventures to meet current market needs, develop business plans, and present to investors.
KINES 077 (GHA) Yoga 1 (1.5) A course designed to give students an understanding of and proficiency in yoga.
MATH 021 (GQ) College Algebra I (3) Quadratic equations; equations in quadratic form; word problems; graphing; algebraic fractions; negative and rational exponents; radicals.
MGMT 431 Entrepreneurship and Small Business Management (3) Entrepreneurship, new ventures, and management of small firms.
PSYCH 200 (GQ) Elementary Statistics in Psychology (4) Frequency distributions and graphs; measures of central tendency and variability; normal probability curve; elementary sampling and reliability; correlations; simple regression equations.
PSYCH 460 Comparative Psychology (3) Behavior from standpoint of phylogenetic growth and development; biological implications; comparison of different types of animals, including man.
Summer II - July 1-August 14
AMST 105 (GH; US) Popular Culture and Folklore (3) Survey of popular culture, folklife, and ethnicity, synthesizing material from such areas as literature, media, entertainment, print, music, and film.
ART 020 (GA) Intro to Drawing (3) Introductory experience in making of art through drawing media; designed for non-majors seeking general overview of studio practice.
CAS 100 (GWS) Effective Speech (3) Principles of communication, implemented through presentation of speeches, with some attention to group discussion and message evaluation.
ECON 104 (GS) Introductory Macroeconomic Analysis and Policy (3) National income measurement; aggregate economic models; money and income; policy problems
ENGL 202C (GWS) Effective Writing: Technical Writing (3) Writing for students in scientific and technical disciplines.
ENGL 420 Writing for the Web (3) Analysis and composition of informative, persuasive, and "creative" Web texts, based on rhetorical principles; no prior Web writing experience required.
HD FS 315 (US) Family Development (3) Family functions over the life course; family from a multidisciplinary perspective, emphasizing adaptation and change.
HD FS 418 Family Relationships (3) Dynamics of family interaction; effects of parenthood, sibling and intergeneration relationships on family solidarity.
MUSIC 007 (GA;US) Evolution of Jazz (3) Study of the origins and development of jazz as an art form.
MKTG 301 Principles of Marketing (3) Focuses on customer behavior, product, channels of distribution, promotion, and pricing with emphasis on a culturally diverse environment. Not available to students who have taken B A 303.
PHIL 010 (GH) Critical Thinking (3) Discussion of the validity, soundness, and fallacies of everyday language use and reasoning; informal logic; and manipulative arguments and propaganda.
SPAN 001 Elementary Spanish I (4) Audio-lingual approach to basic Spanish; writing. Students who have received high school credit for two or more years of Spanish may not schedule this course for credit, without the permission of the department.