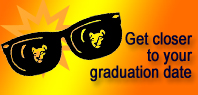 Need a reason to get down to work for the summer season? Taking summer courses at Brandywine could bring you a little closer to your graduation deadline.
For a complete listing of summer courses offered at Penn State Brandywine, go to the University Registrar's course search page.
For more information, contact Patricia Hillen at 610-892-1372.
Summer II - July 1-August 14
AMST 105 (GH; US) Popular Culture and Folklore (3) Survey of popular culture, folklife, and ethnicity, synthesizing material from such areas as literature, media, entertainment, print, music, and film.
ART 020 (GA) Intro to Drawing (3) Introductory experience in making of art through drawing media; designed for non-majors seeking general overview of studio practice.
CAS 100 (GWS) Effective Speech (3) Principles of communication, implemented through presentation of speeches, with some attention to group discussion and message evaluation.
ECON 104 (GS) Introductory Macroeconomic Analysis and Policy (3) National income measurement; aggregate economic models; money and income; policy problems
ENGL 202C (GWS) Effective Writing: Technical Writing (3) Writing for students in scientific and technical disciplines.
ENGL 420 Writing for the Web (3) Analysis and composition of informative, persuasive, and "creative" Web texts, based on rhetorical principles; no prior Web writing experience required.
HD FS 315 (US) Family Development (3) Family functions over the life course; family from a multidisciplinary perspective, emphasizing adaptation and change.
HD FS 418 Family Relationships (3) Dynamics of family interaction; effects of parenthood, sibling and intergeneration relationships on family solidarity.
MUSIC 007 (GA;US) Evolution of Jazz (3) Study of the origins and development of jazz as an art form.
MKTG 301 Principles of Marketing (3) Focuses on customer behavior, product, channels of distribution, promotion, and pricing with emphasis on a culturally diverse environment. Not available to students who have taken B A 303.
PHIL 010 (GH) Critical Thinking (3) Discussion of the validity, soundness, and fallacies of everyday language use and reasoning; informal logic; and manipulative arguments and propaganda.
SPAN 001 Elementary Spanish I (4) Audio-lingual approach to basic Spanish; writing. Students who have received high school credit for two or more years of Spanish may not schedule this course for credit, without the permission of the department.