A residential alternative for international students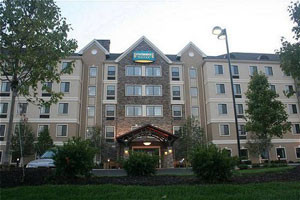 Penn State Brandywine is pleased to offer international students a seamless residential experience at the nearby Staybridge Suites in Glen Mills, Pa. Students may rent extended stay rooms at this beautiful, well-appointed facility for the duration of their stay  in the United States.
Both public transportation and a shuttle service from the hotel will provide the students with easy access to campus, shopping, restaurants and entertainment.  Amenities at the extended stay hotel include a choice of room types fully furnished with refrigerator, stove and microwave; weekly housekeeping; free laundry and gym facilities; and free wireless data connection.
International students needing residential living quarters should contact Staybridge Suites directly.
For additional housing options, students may contact the Admissions Office at 610-892-1225.