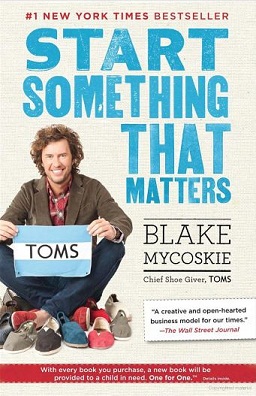 The Campus Common Read for the 2012-13 Academic Year
Start Something That Matters
by Blake Mycoskie
Editorial Review - Publishers Weekly vol. 258 iss. 33 p (c) 08/15/2011
Best known as the founder of TOMS Shoes and as a contestant on The Amazing Race, Mycoskie uses his experience with TOMS, as well as interviews with leaders of non-profits and corporations, to convey valuable lessons about entrepreneurship, transparency of leadership, and living by one's values. The brilliant, simple mission of TOMS (for every pair of shoes purchased, they will give another pair away to children in need around the world) has inadvertently turned its customers into brand ambassadors, making this for-profit company with defined charitable goals wildly successful. Mycoskie deftly balances personal tales about starting a business with generally applicable lessons. While his story sometimes becomes repetitive and he treads familiar ground with start-up tales (motivate your overworked interns by feeding them, never be afraid to get your hands dirty), he offers excellent advice about the importance of honesty and principles in business. This book will appeal to the Millennial generation, who are known for seeking socially relevant jobs, as well as older workers looking to get back in touch with their values. (Sept.)  
Copyright © Reed Business Information, a division of Reed Elsevier Inc. All rights reserved. 
Previous Events
An Hour without Shoes
Tuesday, 4/16/13 at 11:30 a.m.
Vairo Courtyard (rain location - 104 Tomezsko)
In celebration of a 'Day without Shoes', please join us for our common hour event.
Justice versus Charity
Dr. Harrell-Levy will lead an interactive talk on the difference between justice and charity. In her brief 20 minute presentation, she will introduce students to complex issues about how to actively engage in the world.  This purpose of the talk is to help Penn State Brandywine students distinguish between charity (volunteering in a soup kitchen) and justice (working to end the inequalities that make soup kitchens necessary). Through vivid examples, she will urge students to consider the importance of scholarship when discovering and responding to root causes (inequality) versus responding to symptoms (poverty that leads to the need for soup kitchens)..
Yoga
Lisa Dombroski, a local yoga instructor and a member of the Yoga Alliance, will conduct a yoga session.  Bring your own mat or borrow a mat from Lisa (limited number available).
Club-rush
Campus groups that promote civic engagement and / or social awareness will be available to share the results of their work.
Path without Shoes
A path of gravel, sand, and other materials will be used to create the Path without Shoes.  Students, faculty, and staff are invited to get a feel for what children and adults experience without shoes.
---
Are all Entrepreneurs Social Entrepreneurs?
Thursday, 10/25/12 - 11:30 a.m.
103 Tomezsko Classroom Building
Dr. Ronnie Godshalk will lead this Common Read interactive conversation about Start Something that Matters and will focus on traits and behaviors of entrepreneurs and how they differ (or not) from social entrepreneurs. Please come prepared to discuss these unique individuals, like Blake Mycoskie, who make our economy and world a better place.
Show Us Your TOMS
Proudly wear your TOMS on 10/25!  Did you know that there is a Penn State Campus Classics TOMS at http://www.toms.com/penn-state-university?
Order your TOM's online and use this coupon code (FALLTOMS5) to save $5.00. 
Paired Shoe Brigade (10/25 - 11/29)
We also begin our Paired Shoe Brigade, a simple and effective way to re-purpose your old shoes while earning rewards for Philadelphia READS, an organization that helps to strengthen the literacy skills of Philadelphia's youngest and neediest school children.  Watch for drop off locations!
---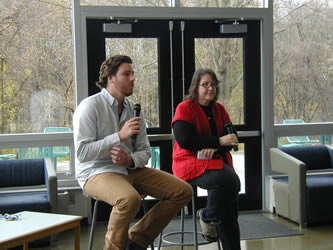 Hand-in-Hand Soap
Tuesday, 11/13/12 - 11:30 a.m.
103 Tomezsko Classroom Building

Bill Glaab, co-founder, started a business based on sustainable giving. For every bar purchased, Hand in Hand will donate a bar to save a life.  The Laboratory for Civic Engagement and We Are Penn State MADE will host a soap drive, collecting soap that will be taken by Hand-in-Hand and distributed to children in Haiti.
---
TerraCycle: Finding the Marketing Magic in Your Local Landfill
Thursday, 11/29/12 - 11:30 a.m.
103 Tomezsko Classroom Building
Stacey Krauss, Public Relations Manager at TerraCycle, Inc., will speak at the wrap-up of our Paired Shoe Brigade on her journey that began as an inspired college kid looking to make a difference in the green industry.
Stacey's passion for public relations began when she was a student at Boston University's acclaimed College of Communication, where she majored in Public Relations.  Her passion for the environment began when she was in kindergarten, where she planted trees at recess.  After college, she worked at an entertainment-focused public relations agency in New York City on marquee accounts like Lionsgate and Scholastic Media, but longed for something more meaningful.  After discovering the TerraCycle's pop-up shop in New York City's Port Authority during Earth Month 2012, she badgered Global VP of Media Albe Zakes until he hired her.  
The campus is collecting old pairs of shoes, part of our Paired Shoe Brigade, to be donated to TerraCycle for recycling and upcycling. Zakes said the shoes that are still wearable will be donated to those in need around the world. Heavily damaged or dirty shoes will be broken down so various parts can be sent to TerraCycle's partners. For example, the rubber material used to make the soles will be broken down and used on playgrounds, while the fabric will be sold to a fabric recycling company.
---
Fare & Square
Wednesday, Feb. 6, 12:30 p.m.
Tomezsko Classroom Building, room 103
Noah Langnas, of Philabundance, will speak about Philabundance's new nonprofit grocery store they are building in Chester.