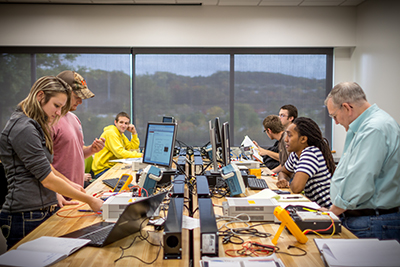 The bachelor of science degree in general engineering with the multidisciplinary engineering design (MED) option incorporates advanced coursework in electrical, chemical and computer engineering, as well as engineering design to produce innovative engineers specialized in systems design and integration.
Students will choose to complete the first two years of foundational engineering coursework at either the Brandywine or Abington campuses. The second two years of advanced engineering coursework will be completed at the new engineering laboratories at the School of Graduate Professional Studies at the Great Valley campus.
In addition to rigorous engineering, mathematics and physics coursework, the engineering students are strongly encouraged to participate in undergraduate research projects in engineering and robotics, the activities of the Abington and Brandywine Engineering Clubs, local industry internships and engineering opportunities abroad.
Multidisciplinary Engineering Design Option (127 credits) 
GENERAL EDUCATION: 45 credits
(27 of these 45 credits are included in the REQUIREMENTS FOR THE MAJOR)

REQUIREMENTS FOR THE MAJOR: 109 credits
(This includes 27 credits of General Education courses: 9 credits of GN courses; 6 credits of GQ courses; 3 credits of GS courses; 9 credits of GWS courses.)

COMMON REQUIREMENTS FOR THE MAJOR (ALL OPTIONS): 71 credits

PRESCRIBED COURSES: 45 credits
CHEM 110 GN(3)[1], CHEM 111 GN(1), CHEM 112 GN(3), CHEM 113 GN(1), EDSGN 100(3), MATH 140 GQ(4)[1], MATH 141 GQ(4)[1], PHYS 211 GN(4)[1] (Sem: 1-2)
E MCH 211(3)[1], E MCH 213(3), MATH 231(2), MATH 251(4), PHYS 212 GN(4), PHYS 214 GN(2) (Sem: 3-4)
ENGR 490W(1), ENGR 491W(3) (Sem: 7-8)

ADDITIONAL COURSES: 22 credits
Select 1 credit of First-Year Seminar (Sem:1-2)
CAS 100A GWS(3) or CAS 100B GWS(3) (Sem: 1-2)
ENGL 015 GWS(3) or ENGL 030 GWS(3) (Sem: 1-2)
CMPSC 121 GQ(3) or CMPSC 201 GQ(3) (Sem: 3-4)
ECON 102 GS(3) or ECON 104 GS(3) (Sem: 3-4)
ENGL 202C GWS(3) or ENGL 202D GWS(3) (Sem: 3-4)
M E 300(3)[1] or EME 301(3)[1] (Sem: 3-4)
ENGR 350(3)[1], E MCH 407(3)[1], or E MCH 461(3)[1] (Sem: 5-6)

SUPPORTING COURSES AND RELATED AREAS: 4 credits
Select 4 credits in General Technical Electives from the program approved list.

REQUIREMENTS FOR THE OPTION: 38 credits

MULTIDISCIPLINARY ENGINEERING DESIGN OPTION (38 credits)

PRESCRIBED COURSES: 38 credits
CMPEN 271(3), E E 210(4), E MCH 212(3)[1] (Sem: 3-4)
CMPEN 331(3), CMPEN 472(3), E E 310(4)[1], E E 352(4)[1] (Sem: 5-6)
CMPEN 454(3), EDSGN 401(3), EDSGN 410(4)[1], EDSGN 495(1), ENGR 407(3) (Sem: 7-8)