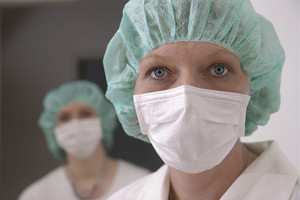 Applying To Professional Programs
Most professional programs in the medical sciences have a common application website. These sites have instructions for completing the applications, which you need to download and read carefully.
We recommend that you research the programs you're interested in and find out what their unique requirements are.
The "Committee"
Dr. Dudkin is the chair of the Accelerated Undergraduate Postbaccalaureate Medical Sciences (Postbacc) program committee (referred to as the Committee). There are four to six additional members of the committee who are fulltime faculty at Penn State Brandywine. The purpose of the Committee are to interview the applicants (you!) for professional medical sciences programs and to write a committee letter of evaluation that will be submitted with your application.
What Are Admissions Committees Looking For?
Admissions committees are looking for academically talented individuals (usually meaning at least a 3.6 GPA and high standardized test scores) with evidence of empathy and compassion as well as appropriate clinical experience.
Most programs in physical and occupational therapy require at least 80 hours of documented volunteer time in at least 2 sites. We recommend that all applicants to the Postbacc program already have documented evidence of at least 100 hours of clinical experience by the time they begin the Postbacc program.
ID Numbers
When you register on the application website (for instance, AMCAS) you will be assigned a unique ID number.
When you decide how you want to have letters of recommendation submitted, you will also have a unique ID number assigned for the letter(s). You will need to send your ID number and the letter ID number assigned to the letter writer to the person writing your letter of recommendation. They will be responsible for uploading your letters to the application website.
If you decide to have a committee letter submitted, you will need to send your ID number and the committee letter ID number to Dr. Dudkin (ead9@psu.edu).