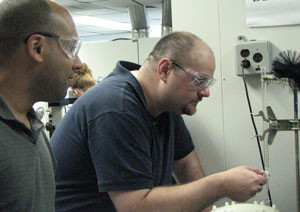 How do I qualify for admission?
Admission to this rigorous program is selective to help ensure your success. To qualify for admission you will need:
a bachelor's degree in non-life science from an accredited college or university (or a science degree that is more than five years old)
a strong academic record, with a college level GPA of 3.0 or better
strong motivation for going into the medical field, as described in a personal statement on the application
volunteer work or related experience in the healthcare field (at least 100 hours)
Prerequisites: An undergraduate precalculus course is required prior to enrollment.
Candidates may be contacted by telephone for additional questions or for an interview.
When should I apply?
The next cohort of students in this program will start in January 2016 and will finish in December 2016. Admissions will occur on a rolling basis, and the application cycle for the 2016 cohort will open on March 1, 2015. Admission is competitive and early application is preferable to allow time for application processing and technology orientation.
How does the application process work?
You must complete the following:
the application for the Accelerated Undergraduate Postbaccalaureate Medical Sciences Certificate program
an undergraduate nondegree enrollment form (if you are registering for the first time at Penn State),
and send along with: 
sealed official transcripts from all institutions previously attended
three letters of reference
a current résumé and
an application fee (check for $50.00 made out to Penn State University)
Please send all correspondence and transcripts to:
Continuing Education
Penn State Brandywine
25 Yearsley Mill Road
Media, PA 19063
Telephone: 610.892.1300
Fax: 610.892.1320
Email: bw-ce@psu.edu