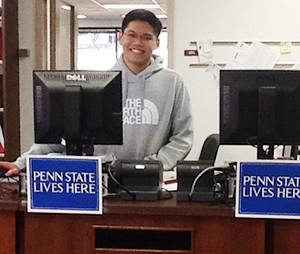 ANGEL, a course management system that provides a global environment for learning, offers a variety of tools such as automatic student enrollment and on-line class activity calendars. Many faculty use this in conjunction with their classes to post assignments and exams dates.
eLion is an interactive, Web-based system servicing students, faculty, and advisors. Faculty who use eLion can generate information necessary for successful advising and teaching. Students can view their academic history, obtain Bursar account information, pay semester bills, retrieve grades, transcripts, and more.
Penn State WebMail is a Web-based e-mail program, similar to Yahoo! Mail, that provides students, staff and faculty with anytime, anywhere access to Penn State e-mail via a Web browser. Authentication to and e-mail storage in WebMail are made possible via a Penn State Access Account userid (user I.D.) and password. The easy-to-use interface lets e-mail users check and send mail via a secure connection, create and organize mailboxes, access directory services, create and add personalized signatures, and change settings.
The Vairo Library provides access the to CAT, the library's E-Resource List, the Vairo Blog and other resources. You can also chat live with Penn State librarians to find information in LIAS databases and on the Web.
Online listing of all courses in the University is refreshed each evening. Select the semester of interest (e.g. spring 2014), course location/campus (e.g. Brandywine campus) and first letter of course (e.g. A-C for course titles beginning with the letters A, B, C).
Penn State offers an online transfer course evaluation guide. Current and prospective students can determine how courses from other institutions might fit into their course requirements.
Penn State's free private online job board lists part-time, full-time, and internship positions. NLCN allows students and alumni to post their resume, apply for positions, and set up email alerts for new postings. Additionally, seniors from all campuses can request on-campus job interviews which are held at University Park.