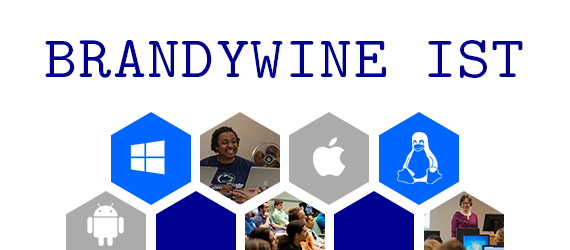 The Bachelor of Science in Information Sciences and Technology was created by Penn State, in consultation with Fortune 500 companies, smaller Pennsylvania companies, and the public sector, in response to a nationwide shortage of qualified professionals.
This program, by integrating computer systems, networking, information management, and software technologies, is intended to prepare you to design, develop, and administer information systems for business and industry.
As a student in the program, you will be exposed to the cognitive, social, institutional, and global environments of IST. A strong emphasis is placed on communication, team-building, business, problem-solving, and management skills. A required internship and a senior capstone experience will involve you directly in the cutting-edge issues and technologies of the field.
Penn State Brandywine offers two options within the IST degree program: Software and Computer Systems, and Information Systems Applications and Integration.
IST Degree Options
INFORMATION SYSTEMS: DESIGN AND DEVELOPMENT: 
Recommended Academic Plan
This option is focused on expanding the skills needed to develop advanced information technology systems using state-of-the-art tools and techniques. The emphasis is on providing the student with both knowledge in the design, implementation, testing and evolution of complex software systems as well as a set of project-oriented, team programming experiences.
INFORMATION TECHNOLOGY: INTEGRATION AND APPLICATION:
Recommended Academic Plan 
This option is designed to prepare students to use information technology to realize a variety of system-based goals (e.g., reliability, accessibility, efficiency, etc.). It is focused on developing a theoretical foundation and the skill set needed for integrating information technology into different systems for the purpose of enhancing system performance. The emphasis is on providing the student with both the theoretical frameworks needed to use information technology as a system attribute as well as a set of application-oriented experiences and skills.
Currently available at University Park Only
INFORMATION CONTEXT: PEOPLE, ORGANIZATIONS, AND SOCIETY:
This option focuses on how information technology affects social change and the delivery of information to the consumer. This includes the human-machine interface; organization and retrieval of information; digital libraries; information and telecommunications services; information and media industry structures; software services and intermediaries; telecommunications and information law and policy; sociological aspects of technology change; multimedia; and art, design, and aesthetics.