The Campus Common Read for the 2011-12 Academic Year.
This I Believe II
by Jay Allison, Dan Gediman
Publishers Weekly review (7/28/2008, Vol. 255, Issue 30):
Allison and Gediman's newest omnibus highlights 75 more essays from the archives of the successful NPR program, a contemporary version of Edward Murrow's classic radio show.
Culled from writers both legendary and previously unfamiliar, each essayist presents what he or she believes in 500 words. From Robin Baudier's tract on "Strange Blessings," detailing her experience living in her parents' FEMA trailer after the devastation of Katrina, to Michelle Gardner-Quinn's credo for "upholding reverence for all life" (Quinn was tragically murdered after completing this essay) to Kim Phuc's essay on "Forgiveness," borne of her experience as that "girl in the picture" running naked, napalm-burnt on a road near Saigon, each micro-essay stuns with its singular beauty, lucidity and humility.
Icons like Helen Prejean, Studs Terkel and Elie Wiesel find estimable company in heretofore unknown writers who distill their individual truths with affecting sincerity and admirable aptitude. (Oct.)
Copyright © Reed Business Information, a division of Reed Elsevier Inc. All rights reserved.
---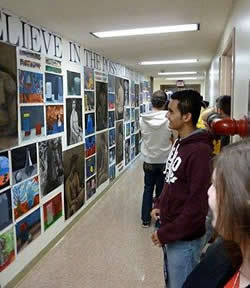 "Believe in the Possibilities of Art"
Thursday, January 19, 2012, 4 p.m. - 6 p.m. in 112 Vairo Library
Join us for the opening event of the spring semester as we celebrate the work of our students from the fall semester's Introduction to Visual Studies/Life Drawing and Introduction to Painting courses. On view, over 100 studies ranging from landscape, still life, figure drawing and imagined works.
The art studio will be open to the public for a look into the inner workings of the creative process. Art Instructor, Jon Manteau will be available for questions, insight and inspiration. Light refreshments to be served.
"The Emotional Guide: How to Create Brands and Communication Based on Belief Systems."
Tuesday, October 25, 11:30 a.m. - 1:00 p.m. in 103 Tomezsko Classroom Building
Ed Tettemer, founder of Philadelphia-based ad agency Red Tettemer, will discuss the process of creating brands based on belief systems.
Tettemer is a marketing strategist responsible for the Greater Philadelphia Tourism Marketing Corporation's "Philly's More Fun When You Sleep Over" campaign and author of the Pennsylvania travel/adventure blog, "The Shunpiker's Guide." He is creative director of TrackPackPA.com and serves on the boards of directors for the City of Philadelphia Mural Arts Program, the Greater Philadelphia Cultural Alliance, among many others, and on several of Mayor Nutter's advisory councils.
Opening Event
"Reasons to Believe: Making Sense of Our Commitments"
Thursday, September 15, 11:30 a.m. - 1:00 p.m. in the Tomezsko Building Lounge
David Macauley, associate professor of philosophy and environmental studies, will discuss the tension between providing reasons (evidence, support, justification) for what one believes and the often non-rational or irrational aspects of the belief (faith, commitment, philosophy) itself.