The Campus Common Read for the 2013-14 Academic Year.
The Fault in Our Stars
by John Green
Amazon Best Books of the Month, January 2012: In The Fault in Our Stars, John Green has created a soulful novel that tackles big subjects--life, death, love--with the perfect blend of levity and heart-swelling emotion. Hazel is sixteen, with terminal cancer, when she meets Augustus at her kids-with-cancer support group.
The two are kindred spirits, sharing an irreverent sense of humor and immense charm, and watching them fall in love even as they face universal questions of the human condition--How will I be remembered? Does my life, and will my death, have meaning?--has a raw honesty that is deeply moving. --Seira Wilson
Events
Spring Event
March 4, 2014
Plan on joining us for our Spring Common Read event on Tuesday, March 4 at 11:30 a.m. in 103 Tomezsko Classroom Building as Tara Monroe, Certified Child Life Specialist, will discuss the real-life experiences of working with children and their families who suffer from life altering and life limiting injuries and illnesses.  Monroe earned her bachelor's degree from Penn State in human development and family studies and has been working in the healthcare field for 7 years.  She is currently a Certified Child Life Specialist for the Pediatric Intensive Care Unit and the Palliative Care Program at Alfred I. duPont Hospital for Children.  Light refreshments will be served.
Leading up to the event, Penn State Brandywine will host a Band-Aid drive to benefit the children of Alfred I. duPont Hospital. Students, faculty and staff are encouraged to donate child-friendly Band-Aids, which can be dropped in collection boxes located at the entrance of every building on campus. Attendees can also bring their donations to the event on March 4. For information about the Band-Aid drive, contact 610- 892-1383.   
Fall Kick-Off Event
October 9, 2013
In our Common Read, The Fault in Our Stars, Hazel meets Augustus at her kids-with-cancer support group.  Please join us for our Kick-Off Event on October 9, 2013 from 12:30 to 1:30 in 113 Main Building as we explore the Benefits of the Group Process.
Dr. Virginia Smith and Ahyana King will lead this presentation on group theory, aspects of the group environment and the types of groups.  Also, Ms. King will lead an activity on applying the group process here at Penn State Brandywine.
Light refreshments will be served.
Common Hour Common Read Event
November 7, 2013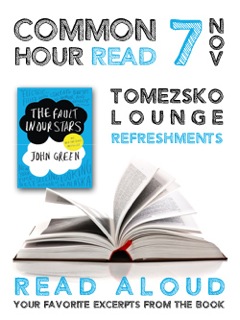 Plan on joining us on in the Tomezsko Classroom Lounge on November 7, 2013 from 11:30 to 12:30 as students, faculty, and staff share their favorite excerpts by reading aloud from the book.
Light refreshments will be served.
Special thanks to our student readers who read aloud and shared favorite passages from the book; Jacob K Iwunze, Joseph Michael Martinez, Amanda V Ayala, Ashley Yvette Pemberton, Huzeifa S Amiji, Devan Marie Russo, Kelsey Anne Zober, Martin Adelaido Ortiz. Malaika Hamid, and Yesha Rohit Pandya.  The students' enthusiasm was contagious and created a successful event.
Watch an interview of John Green