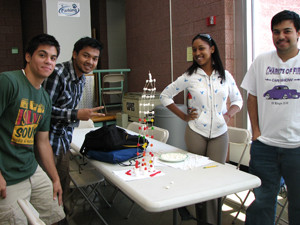 Are you interested in pursuing an Engineering degree, but concerned about your math and science skills?
Do you want to learn more about the kinds of job opportunities available to science professionals?
Do you want to get an advance start on the fall semester, and get to meet some of your future instructors in the process?
Are you interested in earning one college course credit, free of charge?
The Campus College Connection Program (C3P) is aimed at providing incoming S.T.E.M. (Science, Technology, Engineering, Mathematics) majors with a foundation in the math and science skills they'll need to succeed. If you've been accepted to Penn State, and are interested in pursuing a degree in the natural sciences or engineering, the Campus College Connection is for you. The program features:
Weekly workshops taught by STEM faculty, where a variety of topics and team building activities will introduce students to STEM courses.
A summer enrichment program that features individualized academic preparation in math, writing, and academic coping skills.
A one-credit college course (SOAR) offered the week before fall classes begin, which introduces students to both the Brandywine campus and the University as a whole.
View the seminar schedule for the Campus College Connection
Campus College Connection FAQs
How much does the program cost?
Students who are accepted into the program can participate in all or some of the C3P program for $150. This fee includes participation in the summer enrichment program, attendance at Workshop Mondays, and being enrolled in a one-credit course (a $580 value) that will be added to their fall semester schedule after completion of the summer program (students must be signed up for a minimum of 12 credits in the Fall in order to qualify for the credit).
How long does the program last?
Program activities end in late August, before the beginning of the fall semester. The relationships that participants build with their faculty mentors, however, will last well beyond the end of the program.
Does this mean I lose my summer vacation?
No. The weekly workshops are conducted on a fixed schedule, but the LAUNCH Summer Enrichment Program allows students to complete their work in a timeframe that's amenable to their schedules. Students will be able to take vacations, work, and pursue other interests while completing the summer enrichment program.
How will I earn "one course credit" through the program?
All program participants will be enrolled in the one-credit SOAR course at no cost. This one-week course (8/17-8/19/2015) will provide an overview of the Penn State University system. The one-credit course will be added to your fall roster, and successful completion will earn you an "A" grade.
What if I'm interested in science, but not engineering?
Students interested in the natural sciences can also benefit from the Campus College Connection. The program is open to all STEM (Science, Technology, Engineering, and Mathematics) majors.
How to Apply
Apply online or you can request an application for the C3P program by emailing Mrs. Janeen Madison at jdm40@psu.edu. Please direct all questions to Mrs. Madison.
Campus College Connection Timeline and Important Dates
WEEKLY WORKSHOPS
7/6/2015-7/27/2015
Every Monday from 9 a.m.-1 p.m.
LAUNCH
Beginning 6/29/2015
Times vary depending on your schedule
S.O.A.R. PROGRAM
8/17/2015 - 8/19/2015
9 a.m.-3 p.m.