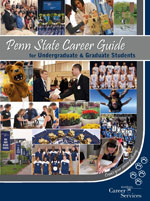 The official Penn State Career Guide containing chapters on Avoiding Job Scams, Job Offers and Negotiations, Government Employment, Resumes and Cover, Interviewing Letters, Applying to Grad School and more.
---
The Gateway Project- Job Seeker's Guide
(contains a Healthcare component)
Students can research employers, industries, and career subjects through free books in VAULT. This site contains over 90 career, industry, and employer guides, occupational and industrial profiles with surveys and salary ranges, an internship database, Gold company surveys that feature in-depth profiles and employee and salary surveys.

 A comprehensive career system focused on increasing employment opportunities for job seekers at all levels including interns, entry-level, professional and executive positions. Features include;
CareerSearch, a comprehensive database with organization/company profiles, contact information, revenue, specialties, competitors, and many more details. Generate an employer list by region and industry or keyword to uncover the hidden job market.
Option to complete exercises to produce a personalized Career Profile report
Ability to explore sample resumes and interview questions related to your field of interest
Use your @psu.edu email address to create your account.
---
Need an internship or job? Campus Philly Job Board has hundreds of great, regional jobs and internships for students to discover. Upload your resume and begin your search.
---

Contains comprehensive information related to careers, industries, salaries, and more as well as videos of career topics and employers. Contact Career Services for login information for Insider Guides.
---